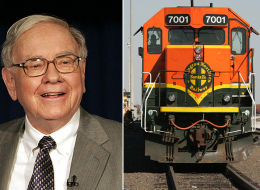 Legendary investor Warren Buffett loves railroads….so much that he spend $34 billion to buy Burlington Northern Sante Fe Railroad back in late 2009 for the portfolio of Berkshire Hathaway (NYSE: BRK-A). Buffett is not the only investor to enamored with railroads have stocks in the sector have performed very well with CSX Corp (NYSE: CSX), Union Pacific (NYSE: UNP), and Norfolk Southern (NYSE: NSC) (chart below) all up more than 20 percent for the last year of market action. Railroad companies should continue to perform well in the future.
Railroads are the cheapest form of transportation for large quantities of goods.
In North America, massive amounts of products have to be moved.  Much of that is for transport to overseas markets.  There is nothing better than trains for moving crops from the Midwest to ports on the Pacific for transport to Asia countries, especially China.
Greater oil production in North America is also increasing business for railroads.
There is not enough pipelines in North America to haul the greater production of oil and natural gas.  As a result, train traffic has increased carrying fuel to markets.  With production increasing, so will the need for train transport.
The income components also make these stocks attractive.
At present, the average dividend yield for a member of the Standard & Poor's 500 Index (NYSE: SPY) is under 2 percent.  The dividend yield for Norfolk Southern Corp. is 2.30 percent.  CSX Corp. has a dividend yield of 2.11 percent.  For Union Pacific Corp., it is 2 percent.  Income investors should do very well riding the railways!
There is nothing glamorous about a railroad.
Warren Buffett likes solid, basic industries.  But gains of over 20 percent certainly make CSX Corp., Norfolk Southern, Union Pacific Corp. and other railroad stocks alluring.  Combined with the above average dividend yield, these stocks should continue to reward investors with a solid total return for the long term.