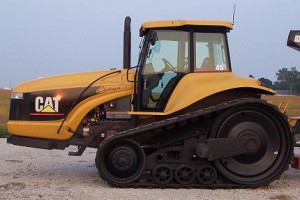 Many previous articles on this site have been bullish about Caterpillar (NYSE: CAT), the world's largest heavy equipment make.
There are many reasons for growth, value, and income investors to be positive about Caterpillar.  Those who have bought have been rewarded.  For 2014, Caterpillar is up about 16 percent (chart below).  For that same period of time, the Dow Jones Industrial Average (NYSE: DIA), of which Caterpillar is a member, is up just over one percent.
Investors should continue to be positive about the outlook for Caterpillar.
Growth investors should like that emerging market nations like China and India will have a huge need for the products and services of Caterpillar.  The Big Cat has opened many facilities in China.  Caterpillar is positioned well to gain from economic growth around the world.  Wall Street expects earnings-per-share to be more than 12 percent over the next five years for Caterpillar.
For value investors, Caterpillar is appealing in that the price-to-earnings ratio is falling.  That shows that the value of the company is rising.  The price-to-cash-flow valuation is very appealing, too.  Even with its price rise, there is still much for value investors should like about Caterpillar.
Income investors have every reason to ride The Big Cat!
At present, the average dividend yield for a member of the Standard & Poor's 500 Index (NYSE: SPY) is under 2 percent.  The dividend yield for Caterpillar is over 2.3 percent.  In addition, Caterpillar has a history increasing its dividend.  For long term income investors, that means there is a raise for owning the stock.
Even though it is a member of the Dow Jones Industrial Average, Caterpillar is a very volatile stock.  Its prices moves nearly 1.75 times as much as the stock market as a whole.  Long term investors should patiently wait for the price to dip then buy to have an even greater total return.