Stocks traded under pressure for most of last week, as many of the reasons for recent optimism in the markets has been removed from the equation.  Specifically, this means investors are starting to price-in the fact that the US Federal Reserve is coming closer to announcing an end point for its third round of quantitative easing stimulus.  This could come as early as next week, with the next FOMC policy meeting to be completed on June 19.  Analysts are split on what to expect at this meeting but the central question will be whether or not the Fed makes the decision to scale back on its monthly programs to purchase Treasuries and mortgage-backed securities.
Currently, the combined totals of these purchases come to $85 billion each month, and any reductions made to this figure will put additional selling pressure on stocks (upward pressure on the US Dollar).  To this point, the Fed has made it clear that employment data will be the swaying factor and so far this year, monthly Non Farm Payrolls surveys are coming in at a tepid average of 190,000 jobs.  This average includes that aberration seen in February (when 332,000 new jobs were added for the month).   The unemployment rate at 7.6% is also well above the Fed's target rate of 6.5%, so there is a growing belief in the analyst community that the Fed will surprise markets by leaving its programs unchanged for the time being.
Selling Opportunities
Ultimately, this would lead to a pop in most of the major stock indices (even when looking at things from a global perspective).  Whether or not this rally will be sustainable, however, is another question.  It will quickly become clear that gains in stock valuations are being based on artificial stimulus, which is essentially little more than a house of cards.  For long term traders, any rallies generated from this would-be scenario will create excellent selling opportunities with very solid risk to reward ratios.  Once the Fed does commit to phasing out on its monthly stimulus purchases, stock gains will rely entirely on earnings performance.  And with consumer confidence levels in question, this is a difficult prospect.  Either way, the Fed decision will be the driving factor next week, and we are likely to see major pickups in volatility once the final statements are made public.
Chart Perspective
S&P 500: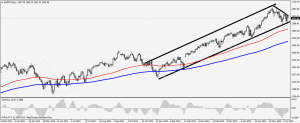 The S&P 500 is showing signs of weakness on the short term charts but the long term uptrend channel is still still intact as long as prices hold above 1590.  Longer term, prices remain at elevated levels, and this does put the index at significant risk if 1590 is removed.  Selling rallies is the preferred approach, first resistance comes in at 1645.
Nikkei 225: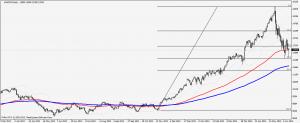 Recently, the Nikkei 255 has seen some of the most volatile moves in stocks, and prices are now struggling to hold above the 50% Fib retracement of the move from 8620.  Best approach is to stay on the sidelines until prices stabilize, next support comes in at 12,340.