Stocks continue to push higher as consistent strength in corporate earnings has now helped the Dow Jones Industrials gain a foothold above the 15,000 level.  The S&P 500 is also seen trading firmly above the 1620 level, showing that the rally is broad based.  The optimism is not contained to the US, however, as the German DAX and FTSE 100 are now seen at new highs for the year.  Some of the positive stories in individual stocks include Whole Foods (WFM) and electronic gaming company Electronic Arts (EA), as both stocks gains by more than 10% after earnings passed analyst estimates.  JCPenney (JCP) rose by 7.5% after quarterly sales results declined less than the massive drop seen in last year's reporting period.   To balance things, Symantec Corp. (SYMC) was the negative story of the day, dropping 2.5% after releasing lower 2013 sales and revenue forecasts.
Forming a Base at Higher Levels
At this stage, stocks are clearly forming a base at higher levels.  Most of the major event risk that was expected this earnings season has passed without significant downside shocks, and this is forcing some short sellers to bail on their positions (helping valuations run higher).   Roughly 72% of the companies that have releases earnings results this season have improved on analyst expectations, so investors will now start to shift the focus back onto macro data in order to determine whether or not the rally can continue into the summer.  The S&P has posted new record highs for 5 straight days (making gains of 3.2%) and we are now in the 5th bull market year of the post Credit Crisis recovery.
Longer term, these gains have been supported by three rounds of quantitative easing bond purchases from the US Federal Reserve and interest rates at all-time lows in many central banks around the world.  This week, the Reserve Bank of Australia joined this club, lowering interest rates by 25 basis points to 2.75%.  This follows a similar move from the European Central Bank last week, where the benchmark rate was lowered to 0.5%.  Going forward, these central banks will be viewing macroeconomic data more closely in order to get an idea of when these accommodative policies will start to be unwound.  More near term, we will have earnings results from News Corp (NWS) and Monster Beverage (MNST).
Chart Perspective
News Corp (NWS):
NWS is showing a textbook example of an uptrend channel on the daily charts (even coming in at a 45 degree angle), and the stable nature of the uptrend is supportive for future gains.  With event risks coming this week, traders should watch for a break of support at 31.55, as this would invalidate the structure.  To the topside, resistance is seen at 32.35.
Monster Beverage (MNST):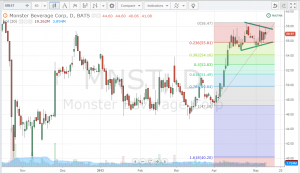 MNST is forming a symmetrical triangle at elevated levels, with prices now vulnerable as we approach critical resistance at 58.60.  This is a consolidation pattern, so any impulsive move here will define price trajectory in the medium term.  Since we are trading well above historical average, more risk is to the downside.  A break of support at 54.90 will confirm this and trigger a test of Fib support at 54.15.