US stock markets managed to post rallies into the end of the week, with the S&P 500 seeing gains of 2.1% during the Thursday and Friday sessions, to trade back above the 1640 level.  This is the biggest 2 day rally since January, and was accompanied by additional moves higher in the Dow Jones Industrials, which are now trading back above the psychological 15,000 mark.  These gains were propelled largely by a surprising outcome in the May Non Farm Payrolls report, which showed an increase of 175,000 jobs for the month.
Stock specific stories showed positive price moves in American Express, Walt Disney, and Boeing Co., which saw Friday gains of about 2.5%, with cyclical stocks showing some of the best performances.  Wal-Mart saw modest gains after announcing a new buyback program, and earnings from the Gap showed marked improvement in same-store sales.  The combination of positives in stock specific stories and the upward surprise in employment was enough for traders to dismiss bearish sentiment recently generated by analyst arguments that the US Federal Reserve will start phasing out its third round of quantitative easing.
Looking deeper into the employment report, however, the details are not as encouraging as the headline number.  Specifically, the results from April were revised lower (to 149,000 jobs) and the unemployment rate ticked up to 7.6%.  This is still well-above the Fed's target of 6.5% so it will be critical to continue watching comments from voting members of the US central bank in order to get a better idea of the current majority bias.
Expect Reductions in Volatility
Now that we are entering into the summer trading season, there is an increased likelihood we will start to see liquidity dry up and reductions in volatility.  This generally favors range trading strategies for shorter term traders.  One possible change to this could be seen if we see any surprising comments from the Federal Reserve, suggesting a need to start removing monetary stimulus.  If this were to occur, downside pressure would be expected in stocks, making it unlikely we will see another test of the all-time highs in the next few months.
Chart Perspective  
Gold: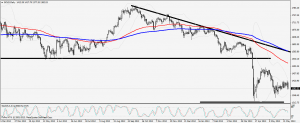 Gold is consolidating its recent losses but the inability to make any substantial run higher here suggests we will see at least another test (if not a downside break) of the yearly lows at 1320.  Traders should view any short term rally as a reason to sell, and the first resistance zone can now be found at 1440.
Dow Jones Industrials:  
The Dow is starting to look encouraging after breaking its series of lower highs and bouncing off of critical Fib support at 14,830.  This area is the 61.8% Fib retracement of the rally from 14,400, so as long as this support remains intact, the bias is for further gains, at least from a short term perspective.  Next resistance comes in at 15,300.