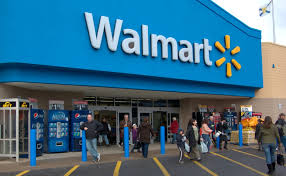 There is much to be written for investing in industry leaders such as Wal-Mart (NYSE: WMT), Caterpillar (NYSE: CAT), and Home Depot (NYSE: HD).  Recent articles have pointed out how well investors have done who have bought Caterpillar on the dips.  The same should take place with Home Depot.  It has certainly rewarded investors like Warren Buffett who bought Wal-Mart when it fell in short term market action.
Wal-Mart, the world's largest retailer, is up 4.36 percent for the last quarter of trading (chart below).
But it is also down for the last week, month, and six months of market action.  For 2014, Wal-Mart is down by 2.72 percent.  Long term growth, income, value investors should look upon this as an opportunity to develop a position at a discount.
As the world's largest retailer, Wal-Mart will not be delivering jaw dropping gains.  But the growth expected in earnings-per-share over the next five years is better than it has been for the last five years.  It is also expected to be better than this year's.  That is a bullish trend that growth investors should like.
For value investors, Wal-Mart is selling at a discount.  The price-to-sales ratio is just 0.51.  That means that each dollar of sales for Wal-Mart is valued at almost a fifty percent discount in the stock price.  That is very alluring for value investors.
Income investors should appreciate how robust the dividend yield is for Wal-Mart.  At present, the average dividend for a member of the Standard & Poor's 500 Index (NYSE: SPY) is under 2 percent.  For Wal-Mart, it is over 2.5 percent.  In addition, as a "Dividend Aristocrat,"  the company has a history of increasing its dividend.  That means that long term investors get a raise for each year just for owning the stock of Wal-Mart.
For growth, value, and income investors, buying Wal-Mart at short term dips should be rewarding for long term total returns.