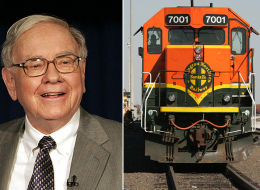 Many previous articles on this site have emphasized the value of buying "Dividend Aristocrat" stocks and following legendary Warren Buffett, who many consider to be the best ever.  Investors will do well following those two directions in buying stocks.  It is difficult to argue with the results of either.
When both combine, it is even better.
That is the case now with Coca-Cola (NYSE: KO), ExxonMobil (NYSE: XOM), and WalMart (NYSE: WMT).  All three are industry leaders.  All three are Dividend Aristocrats.  Making it even better is that Warren Buffett owns the stock of all three companies.
A Dividend Aristocrat is a company that has raised its dividend annually for at least the last 25 consecutive years.
Just to pay a dividend is a sign of strength for a publicly traded company.  To increase it is another power indicator that the firm is a good investment.  To raise it annually shows that the company is one of the best.
That is certainly the case with Coca-Cola, ExxonMobil, and WalMart.
The stock market agrees.  Over the last month of market action, Coca-Cola is up more than 4 percent.  For the last quarter of trading, ExxonMobil has risen neatly 15 percent.  WalMart is up nearly 9 percent for the quarter (chart below).
The dividend yields from each make the total return even more rewarding.
At present, the average dividend for a member of the Standard & Poor's 500 Index is just under 2 percent.  The dividend yield for WalMart is more than 3.4 percent.  For ExxonMobil, the dividend yield is around 2.70 percent.  Coca-Cola has a dividend yield of around 3 percent.  As Dividend Aristocrats, the dividend amount has a tradition of being raised annually.  Long term investors basically get a raise each year just for owning the stock.
With returns like that, it is obvious why Warren Buffett owns all three of these Dividend Aristocrats!