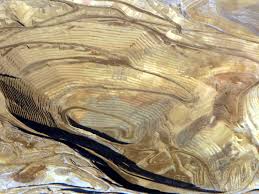 April was a good month for investors in the natural resources sector.
BHP Billiton (NYSE: BHP), the biggest natural resources company in the world, was up 4.36 percent (chart below).  The exchange traded fund for copper, iPath DJC-UBS Copper (NYSE: JJC), finished higher, too.  That is a very bullish sign as copper is a base metal needed for many economic needs in building and operating factories.  It shows that the economy is doing well.
Also doing well were investors in many gold and energy stocks.
Newmont Mining (NYSE: NEM), one of the biggest in the world, is trading higher by 4.60 percent.  United States Natural Gas (NYSE: UNG), the exchange traded fund for natural gas, has jumped by 7.32 percent for April as buyers continue to pay a premium for North American natural resource assets.  That results for a bullish outlook for small caps such as Mondial Ventures (OTC: MNVN) and Premium Exploration (OTC: PMMEF).
Mondial Ventures operates in the legendary oil and natural gas country of Texas.  The rich gold field of Idaho is where Premium Exploration is prospecting. Both have very valuable holdings in these areas.  That makes each a prime takeover target, especially for a foreign investor.
The future is bullish for the natural resource sector.
Growth in China, India, and other emerging market countries will increase the demand for oil, natural gas, copper, and other materials needed to power the factories, farms, and other facilities of a modern economy.  India and China are also the two biggest consumers of gold in the world, too.  The monetary policies of global central bankers favor hard assets such as oil and gold as quantitative easing makes fiat currencies less appealing.  Basic supply and demand dictates that when there is more of an asset, it falls in value.  That is happening with the US Dollar and other paper money, making natural resource assets more appealing.