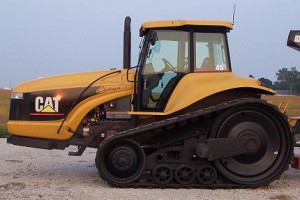 Many previous articles on this site have extolled the appeal of Caterpillar (NYSE: CAT) for growth, value, and income investors.  For those buying shares of The Big Cat, there have been rewards.  Caterpillar is now over $105, pretty much its year high.  The stock is up for the last week, month, quarter, six months, and year of market action (chart below).
There is every reason to remain bullish on The Big Cat!
Caterpillar is the world's biggest heavy equipment manufacturer.  It is also a member of the Dow Jones Industrial Average (NYSE: DIA).  With economic growth around the globe, there will be an even greater demand for the products and services of Caterpillar.  That is especially true in China, the world's most populous country.  Caterpillar has a huge presence in China.  It will only grow with time.
That keeps Caterpillar alluring for growth, value, and income investors.
There is a bullish outlook for both sales and earnings growth.  Sales are expected to continue to increase.  So are the earnings for the company.  For the past five years, earnings-per-share growth has only been 0.30 percent.  Over the next half decade, it is estimated to reach 12.81 percent.   According to Jim Cramer, the legendary investor from TheStreet in his book, "Confessions of a Street Addict," earnings are all that Wall Street cares about in stock.  The mean target price for Caterpillar over the next year of market action from the Wall Street analyst community is $111.92.
The income component will add to the total reward for the investor.
At present, the average dividend yield for a member of the Standard & Poor's Index (NYSE: SPY) is under 2 percent.  For Caterpillar, it is around 2.30 percent.  In addition, Caterpillar has a history of raising its dividend.  There is also plenty of cash to increase the dividend or initiate stock buyback programs to reward shareholders.
That has certainly happened this year as Caterpillar is up more than 17 percent!