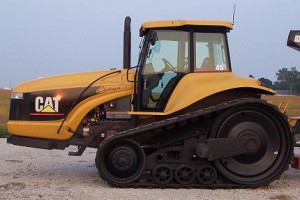 A previous article on this site, "Buy Caterpillar on The Dips," was very bullish on the long term prospects of Caterpillar (NYSE: CAT), the world's largest heavy equipment maker.  When published, January 28 of this year, Caterpillar was trading in the 80s.  Caterpillar is now around $103 a share (chart below).
The same thesis remains as for the previous piece: buy Caterpillar on the dips!
Caterpillar is a member of the Dow Jones Industrial Average (NYSE: DIA).  While the stock market has been week in recent market action, the shareholders of Caterpillar have been rewarded for this bullish outlook on the Illinois-based blue chip.  Caterpillar is up for the most recent week, month, quarter, six months, and year of market action.
For 2014, Caterpillar is up nearly 15 percent!
There is much to be bullish about for the future of "The Big Cat!"  Earnings-per-share growth for the next five years is projected to be 13.45 percent.  For the last five years it was only 0.30 percent.  That is a very bullish trend for earnings!
According to investing legend Jim Cramer of TheStreet, earnings are all that Wall Street cares about so that is very positive in itself!
While rising earnings are great, so is a high dividend yield.  At present, the average dividend yield for a member of the Standard & Poor's 500 Index (NYSE: SPY) is under 2 percent.  The dividend yield for Caterpillar is 2.33 percent.  The company has a history of increasing the amount of the dividend, too.
That means that long term income investors get a raise when the dividend amount is raised just from owning shares of The Big Cat!
Growth, value, and income investors should find what Caterpillar has to offer as a publicly traded company to be very appealing.  For the long term, Caterpillar will prosper from global growth as demand for its products and services will grow.  That should increase the share price for The Big Cat, too.