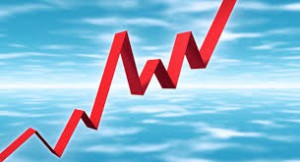 While there is much to be said for stability in the share price of a stock, there is no reason for a long term investor not to put volatility on their side.  There are many excellent stocks such as BHP Billiton (NYSE: BP), BP PLC (NYSE: BP), and Caterpillar (NYSE: CAT), that move up and down more than the stock market.  For savvy investors, that is an opportunity to buy at a discount.
Studies have shown that about 70 percent of the movement in a stock price is due to factors affecting its sector.
As an example, if oil prices move up and down, so will the price of BP PLC and other energy companies.  BHP Billiton is the world's largest natural resources company.  Caterpillar is the biggest equipment maker, with operation spanning the globe.  Both are very dependent on demand from China.  When there is good news from China, the stock prices for BHP Billiton and Caterpillar (chart below) react accordingly.
It is when there is news that adversely affects the price of the shares that investors should buy if it will not have an impact on the core business operations of the company.
There is the income factor at play here, too.  BHP Billiton, BP PLC, and Caterpillar all have high dividend yields.  When the price of a stock falls, the rate of the dividend yield rises.   Investors buying for the long term will be able to purchase blue chips income stocks at lower prices with higher dividend yields.  In addition, many blue chips such as these have a history of raising the amount of the dividend.
It is the nature of the stock market that prices will fluctuate.
Long term investors should put that movement on their side.  Due to factors having nothing to do with their core business operations, BHP  Billiton, BP PLC, Caterpillar, and other blue chips will sell at lower prices.  For the patient and shrewd investor, that can result in a much higher total return.