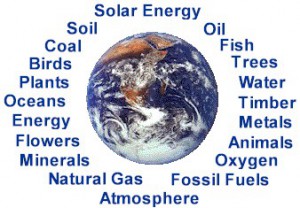 A previous article on this site detailed how strong the first quarter was for the natural resources sector.  The main exchange traded fund, SPDR S&P Global Natural Resources (NYSE: GNR) was up for the first quarter.  So was BHP Billiton (NYSE: BHP), the world's largest natural resources.  Promising small caps such as Mondial Ventures (OTC: MNVN), an oil and natural gas firm in Texas, and Premium Exploration, (OTC: PMMEF), a gold exploration company in Idaho, have tremendous upside.
Here are 3 reasons why investors should be bullish about the natural resources sector.
Consumer demand is exploding across the world.  More than a billion more across the world will ascend to the consumer class, according to a report by McKinsey Global Institute. That will increase the need for massive new amounts of natural resources.  Oil and natural gas will be needed for fuel, as but one example.  Oil is the most widely used fuel source in the world.  According to the International Energy Agency, the demand for natural gas will rise the most.
In addition to more consumes, there will be more living in cities.  That greatly increases productivity.  Carl Weinberg, head economist for High Frequency Economics, stated in an interview in Barron's that each person in China who moves from the countryside to the city raises domestic product by as many as six times.  That is happening around the world.  An economy benefits from the greater output of its citizenry living in urban areas.
Economic growth begets more economic growth.  Burgeoning consumer demand and expanding cities will result in more economic growth, that is to be certain.  From that greater economic growth, there will be a higher demand for all natural resources.
That will raise the standard of living for all.  Natural resources will contribute greatly to that.  Investors should be very optimistic about the future of the natural resources sector.