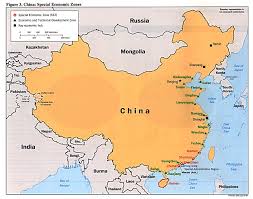 While the recent growth numbers from China may have been disappointing, Caterpillar (NYSE: CAT), Toyota Motor Corp. (NYSE: TM), and General Motors (NYSE: GM) are still betting big on the world's most populous country.
There are many reasons for that confidence in the People's Republic of China.
In addition to having the most people in the world, China also has the most purchasing power of any county.  The Chinese also save more than any other country in the world.  The People's Republic also consumes more of many commodity items such as coal and copper.  The commodity consumption presents a huge market for the heavy equipment and machinery from Caterpillar.  That is why Caterpillar has done well in recent market action (chart below).
But the increase in consumption spending from the Chinese consumer is what it so alluring to Toyota and General Motors.
Consumer spending as a percentage of gross domestic product in China is less than half what it is in the United States.  Beijing is focusing a great deal of resources on increasing consumer spending in China.  It is hoped that it will stabilize the economy more from moving it away from an export-oriented one.
That will obviously increase the amount of motor vehicles being bought by the Chinese consumer.
Toyota Motor is the largest motor vehicle company in the world in terms of production and sales.  General Motors is number one in China.  Both want to increase their market share in the country.
Caterpillar, Toyota Motor, and General Motors are all solid companies that pay strong dividends.  All have dividend yields above the average for a company that is a member of the Standard & Poor's 500 Index (NYSE: SPY).  With the Chinese consumer starting to spend more and Beijing encouraging even more, the future is bright for General Motors, Toyota Motor, and Caterpillar in the market where there is the most people and the most money being spent.